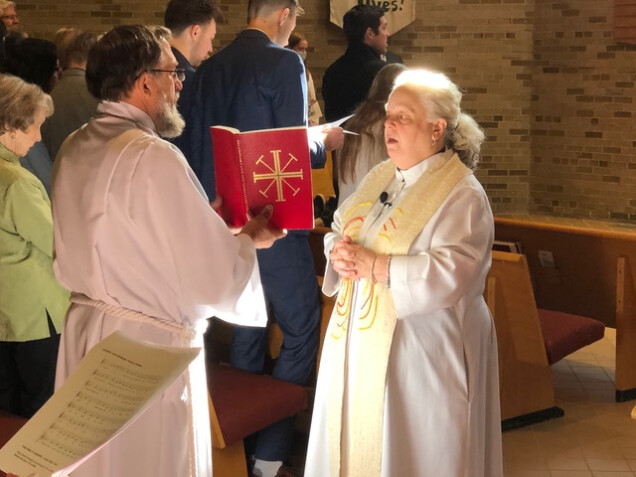 Abiding Presence is a member of the Evangelical Lutheran Church of America, a large, progressive denomination within the Lutheran family that has about 3 million members across the United States and the Caribbean.
God comes to us
The Lutheran Church gets its name from the 16th-century reformer Martin Luther, whose spiritual breakthrough revealed to him that it is God's grace that comes to us, through no work of our own. (Romans 1:15-16)

We believe that scripture is the inspired word of God. In scripture, God speaks to us about love and liberation through the One who endured the cross and rose to life again.

The sacraments of Holy Baptism and Holy Communion are celebrated fully. Holy Baptism initiates us into the household of faith, forgives our sin, claims us as God's own and calls us into a life of service in Christ's name. Holy Communion strengthens and upholds our faith as we receive the living Christ in bread and wine and word each Sunday that we worship. (See Luther's Small Catechism on the sacraments.)
Because God first loves us, we get to...
As people of faith claimed by God we get to live God's saving grace in our daily lives, so others can know the same saving grace in Jesus.

We worship with joy and thanksgiving. Because God has already dealt with the worst outcome of human sin, namely death, our worship (like our service) is a return of thanks for the gift of life given to us in Christ.

Since we don't do anything to earn God's love for us our whole lives are lived in a posture of thanksgiving for the world God created, for the diversity of the human race, and for God's love to be more widely known through our ministry in the world.
We value diversity

We offer a warm welcome to all people. We recognize and will challenge dynamics of power and privilege that create barriers to participation and equity in this church and society – for women, people of color, minority ethnic groups, people with disabilities, people who are marginalized or living in poverty, and the LGBTQ community. Abiding Presence is a Reconciling in Christ (RIC) congregation within the Lutheran Church, which means the faith community is actively participating in anti-racism education and work; striving to work towards racial equity in our midst. Abiding Presence explicitly welcomes people of all sexual orientations, gender identities and gender expressions; has called a leader from a diverse background; and allows its sanctuary to be used for LBTQIA+ weddings and blessings.