Diversity is Welcomed
Abiding Presence participated in Rochester's Pride event in June 2023.
Statement of Welcome

Abiding Presence Lutheran Church is a Christian community of faith, worship, and service grounded in the use of word and sacrament, and we welcome all who are seeking God's love and grace.

We welcome all because God welcomes all regardless of race or culture, sexual orientation, gender identity or expression, or relationship status. We welcome all without regard to addictions, physical or mental health, imprisonment, socio-economic circumstances, or anything that too often divides us.

Our unity is in Christ.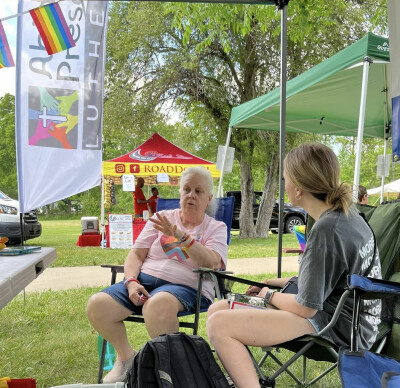 Abiding Presence is a Reconciling in Christ (RIC) congregation within the Lutheran Church. This means we:
explicitly welcome people of all sexual orientations, gender identities, and gender expressions;
are a congregation that works on being anti-racist through learning and advocacy, welcoming and inclusion;
have called a leader from a LBTQIA+ background; read about Pastor Sharon Janot);
welcome those who identify as LBTQIA+ to celebrate your weddings and blessings in our sanctuary.
REASA (Rochester Ecumenical Alliance for Social Action)
Abiding Presence is a partner in a coalition of 5 local congregations that work together on issues of welcome and inclusion in our community. Together we have welcomed two Afghan families and helped them get settled into schools, employment, and the local area. We also focus our work on anti-racism education and the need for inclusion for all people in our part of Oakland County.