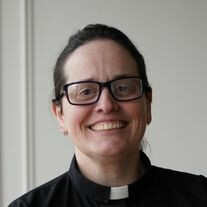 Stephanie Newman
Vicar
Office: 248-651-6550
Vicar Stephanie Newman is currently a Senior at Luther Seminary on her way to getting her Masters of Divinity (Mdiv) in May. She is a 48 year old mother of two who lives locally with her wife of 19 years and two children. She is serving at Abiding Presence this year as an intern working closely under Pastor Sharon Janot and Pastor Lee Zandstra.
She has been involved with queer rights advocacy for decades and worked for Michigan's largest gay anti-violence organization supporting the LGBTQAI (+) community for 12 years. At that time she was responsible for producing the state's largest gay events including Detroit's 50,000 plus attendee Motor City Pride, and the "Reel Pride Michigan" film festival. She was involved with direct legislative initiatives and fundraising with the governor to work on changing laws for marriage equality and anti-bullying legislation.
Stephanie grew up in the Lutheran Church, but has an abundance of experience in ecumenical environments and a diverse background in multi-denominational involvement. She led various mission trips and was always involved in helping with youth, elder and music ministries. During her times in various churches she experienced spiritual abuse first hand as she fought for he place in the church as a queer individual. Years of fighting to bridge the gap between the church and the queer community led her to tap into the call she feels God has for her as an openly out and proud queer minister.
At Luther, she is currently serving as LGBTQAI(+) rep on student council, is Emmaus President (Luther Seminary's Queer group), and serves as an admission ambassador and seminary relations ambassador. She is co-chair of the Reconciling in Christ (RIC) committee at Luther, working to make the Seminary a safe place for all marginalized people studying to serve God and the church.
Along with a colleague at school, she developed "Ministry Matters," which is an educational forum designed to train upcoming clergy and alumni in the care and ministry to the queer community. This is a completely student-led initiative that hopes to transform the future of the church by starting with teaching its future leaders compassion today.
After graduation, she hopes to be ordained as a mission developer to bridge the gap between the queer community and the church, and continue to be a voice for queer equality in the church, but is open to serve where God leads her. She is excited to be serving at Abiding Presence this year!