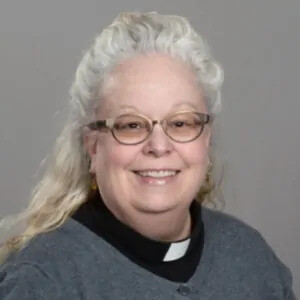 Sharon Janot
Pastor
Office: 248-651-6550
Pastor Sharon Janot hails from the state of Wisconsin. She was raised in Racine—a city known for its Danish connections—where Kringle was regularly served at parties and where a model ship hangs at the head of the aisle of Lutheran congregations with Danish ties. She attended the University of Wisconsin-Stout in Menomonie where she received a B.A. (summa cum laude) in Psychology in 1983. During her college years she was very active in campus ministry as a peer minister and worship leader. She also was a Resident Advisor for two years. These experiences helped in discerning a call from God to ordained ministry. Pastor Sharon attended the Lutheran School of Theology at Chicago in Hyde Park, earning the Master of Divinity in the spring of 1987. She has served congregations in New York (Long Island) and (southeast) Michigan.
Pastor Sharon began her ministry at Abiding Presence as a transition pastor in February 2012 during a pastoral vacancy. She received and accepted the call to serve as Pastor in October of 2012. What brings her joy in ministry is leading worship, helping others learn more about scripture and the life of faith, and supporting the discipleship of those who are a part of Abiding Presence. She is a trained labyrinth facilitator, using the labyrinth as a tool for prayer.
In May 2017 Pastor Sharon married her long-time partner, Karin Cavanaugh, at a joy-filled service at Abiding Presence. Together they live in Rochester Hills and enjoy the company of their three miniature Schnauzers–Jodi, Izzy and Winnie. She enjoys gardening, knitting, reading, traveling, and visiting art museums in her spare time.